Smart Paraphraser Overview
How agents can instantly choose from up to 3 AI-generated paraphrased suggestions to reduce repetition and add variety to their usual replies.
Smart Paraphraser enables agents to send articulate, grammatically-correct responses faster with AI-powered paraphrased suggestions. Paraphrasing will help agents to bring much-needed variety to conversations as it will help in reducing the robotic nature of conversations by enlarging the scope of usual agent replies.
Enablement note:
To learn more about getting this capability enabled in your environment, please work with your Success Manager.

The functionality is not supported for rich text channels currently.

The users must have the Smart Paraphrase permission under Outbound Execution to use this capability.

​

Currently, Smart Paraphraser is available in English. We plan to support Portuguese, Arabic, Spanish, Chinese, and Italian in the future.
Use cases for Paraphrasing
Improved agent efficiency
Increase agent efficiency with AI-based paraphrased suggestions to diversify agent's responses.

Improve average response time by quickly selecting the suggestions.
Better customer experience
Increase CSAT by driving customers to resolution faster and in a consistent, brand-compliant manner with personalized conversations while reducing agent effort by helping them to widen their response set.
To use Smart Paraphraser in Care Console and Agent Console
Open the desired case in Care Console you want to send a reply to.

After you type your reply in the reply box, click the Paraphrase icon at the bottom to view the suggested paraphrased variations of the message while keeping the same intent.

Choose the desired paraphrased text from the AI-generated suggestions. Once selected, you can edit the text before sending.

Similarly, you can use Smart Paraphraser in Agent Console.
To view reporting on Smart Paraphraser
Create a reporting widget and plot Event Count (Smart paraphrase) metric to view the total number of suggested Smart Paraphrases.

Create a widget and plot Smart paraphrase Predicted Text and Case Id dimensions with the Unique Case Count (Smart Paraphrase) metric to view the paraphrased text along with the Case Id.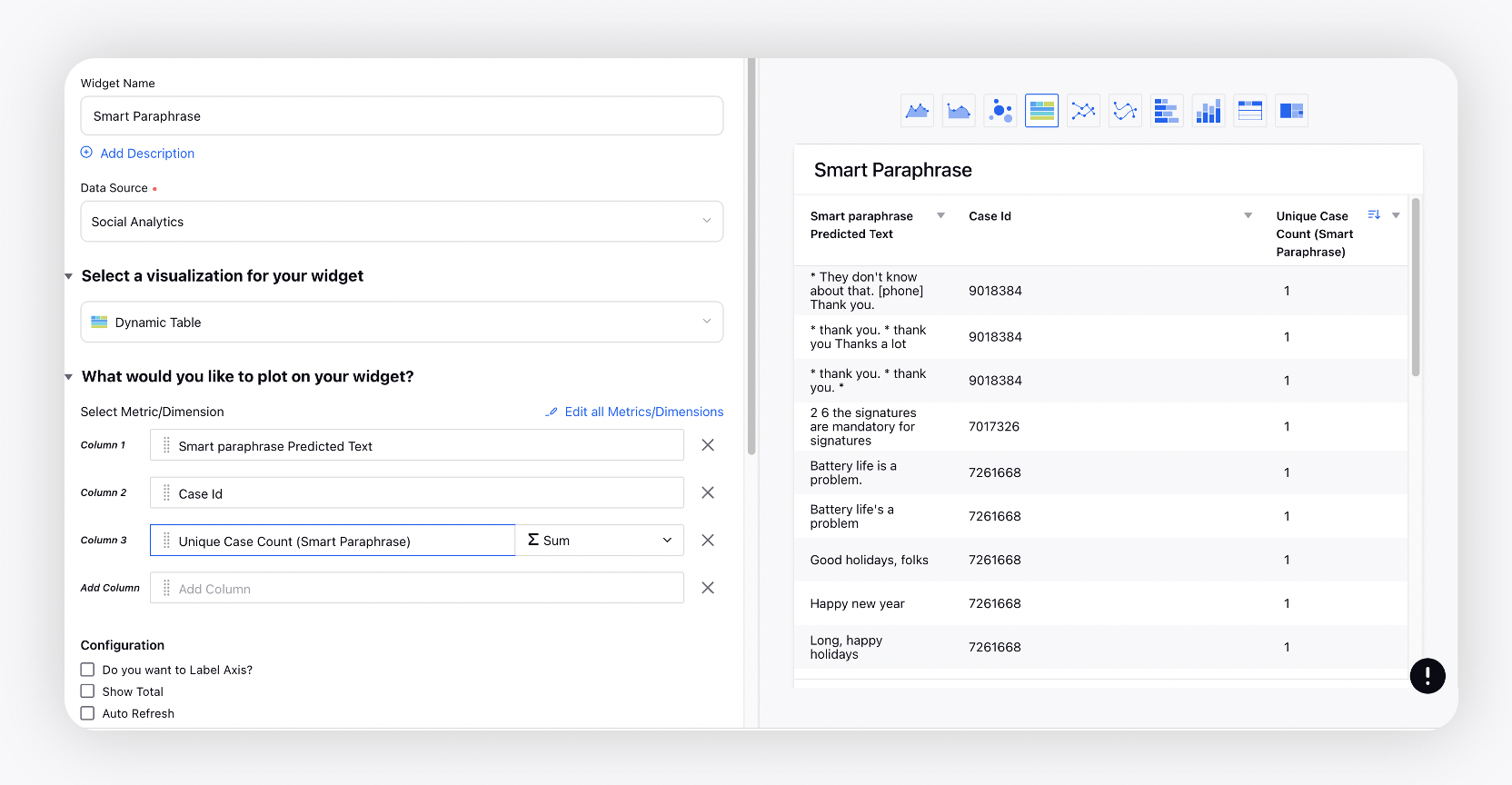 Video reference