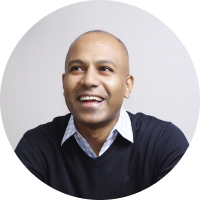 A letter from Ragy Thomas
A new channel emerges. Consumers adopt it to communicate with one another. And, eventually, businesses follow, using it to reach, engage, and listen to customers for everything from marketing to customer service.
The first time I saw it was during the shift from direct mail to email, 20 years ago.
Back then, I was building an email marketing platform for the enterprise with colleagues from an earlier startup. To do it, we had to invent different capabilities: content planning, publishing, approval workflows, automation, governance — everything a large company would need to use email as a channel to communicate with customers at scale.
Fast forward to the mid-2000s. There wasn't one new channel emerging. There were dozens. And they were coming rapidly, one after another, in different countries around the world. The proliferation has only continued, with channels like Google Messages, TikTok, and Apple Business Chat in the last few years alone.

The pattern was familiar, but these modern channels were unlike any of the traditional ones – direct mail, phone, and email – that had come before. Communication was no longer one-to-one, but many-to-many, with billions of people connected to each other. They were sharing more information than ever about themselves, what they care about, and what they think of products and services — and trusting one another more than they trust brands. Their expectations had changed, wanting to be known and served, on demand and on their terms.
It was clear we were entering a new world of business. A world where consumers were not only connected, but empowered. Where they could advocate and criticize on public platforms, making or breaking a brand's reputation in the process. And where what they say is defined by one thing: their experience — a feeling shaped by every interaction they have with a brand.




A new world of business has led to
point solution chaos

Today, enterprises face three fundamental truths:
The way the world communicates has changed, with billions of consumers moving from traditional channels like email and phone to dozens of modern channels like social, messaging, chat, and text.

The amount of experience data customers share is unprecedented and unstructured, with enterprises unable to own it, and traditional systems like CRM not built to manage it.

The expectations of consumers have changed, with an instant, personalized, proactive, and consistent experience valued above all else, forcing every customer-facing team across the front office to rethink old approaches as a result.
For big businesses, managing that experience – knowing and serving each customer as a unique individual, and connecting the dots as they move across dozens of channels and between customer-facing teams, at every touchpoint, every time – is more important than ever. It's also a big challenge. One they aren't equipped to meet.
Over the years, enterprises have spent fortunes trying. They knew these shifts would require new capabilities in every customer-facing function; and while they had traditional enterprise platforms for CRM, web, and email, they would also need newer technologies to adapt.
As with every major market shift, a new wave of point solutions cropped up to tackle small parts of the customer experience problem. Marketing bought a point solution for content, another to manage influencers, and yet another for advertising. Care bought a point solution for live chat, a different one for chatbots, and another for communities. Research bought listening. Sales bought advocacy.
But when technologies aren't built to work together, neither can the people using them. The result? Siloed teams. Siloed tools. Siloed data. Duplicate customer and campaign IDs, disconnected workflows, isolated analytics, and limited governance.
Enterprises have fallen into point solution chaos and fractured the customer experience — spending millions treating each symptom, but missing the cure.



Unified-CXM:
An inevitable new category of enterprise software

Enterprises need a new path forward:
A way to communicate across channels — listening to, engaging, and reaching customers on the dozens of digital channels they prefer, and each of those that will come next.

A way to harness experience data — using powerful AI to analyze a vast, ever-expanding ocean of unstructured customer experience data, and automation to act on it at scale, with privacy by design.

And a way to modernize customer-facing functions while enabling them to work together — providing each customer-facing function with the next generation of capabilities they need, built on a single codebase with shared governance, workflows, and automation, so everything – and everyone – can work together.
We call it unified customer experience management (Unified-CXM). And over the past decade, we – alongside hundreds of the world's largest and most loved brands – pioneered a new category of enterprise software purpose-built to solve it.
Today, more than 1,000 of the world's most valuable enterprises, including global brands like Microsoft, P&G, and Samsung, trust Sprinklr – the world's first Unified-CXM platform – as a vital backbone of their digital transformation.
With Sprinklr, customer-facing teams across the front office – Customer Care, Marketing, Sales, and Research – can communicate with billions of potential customers on 35+ digital channels, understand their individual needs in real-time, and collaborate across silos to act on them — delivering a more human experience to every customer, every time, at once-impossible scale. All on one unified platform.




An idea whose
time has come

From the beginning, we set out to build a different kind of enterprise software company.

A company whose mission is to enable every organization on the planet to make their customers happier. Whose vision is to be the world's most loved enterprise software company, ever. And one that believes, above all, while the world may be more connected and chaotic than ever before, one thing has never changed — people never forget how you make them feel.
That idea is at the heart of the problem we see, the platform we've built, and the culture we aspire to create every day — a culture that's customer-obsessed, where we treat one another like family, and take extreme pride in who we are, what we build, and what we do.

In my life, I've come to believe that, like a river carves out a canyon, the creation of anything with enduring beauty and greatness takes time. And once that young stream of water finds its path, the result isn't a matter of if — but when.
We've always said Unified-CXM is "an idea whose time has come." We believe that time is now.
If you believe, like we do, that:
Channels have proliferated, and will continue to do so...

Data has grown exponentially, and won't be owned by enterprises...

Customers are connected and empowered, with new expectations...

The front office is broken, with point solution chaos leading to a fragmented customer experience...

Unified-CXM represents one of the single-most strategic investments for the modern enterprise...
...then I invite you to come on this journey with us. To be part of creating a new category of enterprise software. Enabling brands to be more human. And making their customers happier.
We're just getting started.
The best is yet to come,


Ragy Thomas
Founder, Chairman & CEO
What investors say about Sprinklr
Tarim Wasim
Partner, Hellman & Friedman, LLC
Board of Directors, Sprinklr

"Sprinklr started with enterprise, and they've stuck with enterprise... They did that very intentionally — because if you can solve the biggest, most complex company's problems, you can solve anyone's problem."